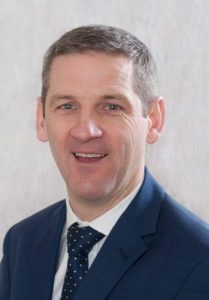 Patrick Buckley is Managing Director of family business EPS Group, a leading provider of water and wastewater treatment and pumping solutions. In this interview, he describes how the company grew from modest beginnings in Kanturk, Co. Cork in 1968 to expand internationally and how the company has benefited from engaging with DCU's Centre for Family Business.
Tell us about your company and how it got started…
In December 1968, Gerard Buckley and Jeremiah Sheehan started their company Kanturk Electrical and Farm Services Limited with a motto to make the housewife's lot easier. Traditionally on rural farms, the housewife controlled the purse strings so they wanted to make life easier by supplying appliances and electrical goods for farms and hinterlands. In the late 1960s, rural electrification schemes were bringing electricity to remote villages and there was a growing demand for appliances like televisions, radios and milking machines. Through installing milking machines, they got into pumps and began working with creameries and then focused on pump installations, repair and maintenance services.
How has the company evolved since that time and how many generations of family have been involved?
The company then evolved in the 1970s with Gerard and Paddy Buckley establishing Electrical and Pump Services Ltd. Tadhg Buckley (brother) and Betty O'Connor (sister) became involved as shareholders / employees thereafter. The company continued to grow throughout the 1980s, delivering major water supply schemes and wastewater treatment plants throughout Ireland and also expanding internationally into industrial wastewater treatment in the United Kingdom, Cyprus, Bahrain, Libya and Saudi Arabia.
However, the 1990s saw a certain retrenchment from international expansion and a renewed focus on the Irish market due to increased EU investment in water infrastructure in the country. This changed in 2009 when we once again began to look outside of Ireland as the business had grown to a size that was no longer sustainable in Ireland alone.
The recession really created the perfect storm for us from 2009 to 2012 though as it coincided with the transition from first to second generation when all of the original owners retired from the business.
During this time, we had our first and only loss as a company to date in 2010 due to the collapse of a construction company who were partners on a number of projects where we had to pick up the costs to complete the projects.
The recession was a difficult time – we had to introduce short working hours and pay cuts but we avoided laying people off. At around the same time we also got involved with DCU's Centre for Family Business (CFB) and Enterprise Ireland's Leadership for Growth programme. We evaluated our people and the capacity of our business and set a plan for 2020 which we are currently working through. We invested heavily in LEAN, we stopped dealing with some customers and divested companies acquired in the mid-2000s that were no longer strategic or core to our business.
What are the unique challenges that you face as a family business operating in Ireland today?
It is an ongoing challenge to make sure that the company is run as a business but we are very lucky to have a diverse board with family and non-family members.
Expanding the business to enable the next generation to become involved is another challenge. There are currently 7 out of 17 second generation family members working in the business. We now also have 32 third generation family members aged from ten weeks to seven years old. If we were to go forward to the next generation at the same level of participation, we could have 14 family members involved, and we will need a very big business to support that!
How has the CFB helped you to navigate these challenges and to prepare your company for the future?
One of the main advantages of the Centre for Family Business is hearing about models and plans that other companies have in place to deal with challenges like succession. Our involvement with the CFB has been a huge benefit – listening to stories from international companies and engaging with how they have dealt with their challenges. Hearing from Irish companies that are now fifth or sixth generation has also been very beneficial.
We were also involved with a CFB case study as part of the Successful Transgenerational Entrepreneurship Practices (STEP) international project which looked at how you can take culture through generations. It was a very beneficial exercise for our senior management team. Seven people were interviewed – a mixture of first and second generation family members and non-family members. Taking part gave us a great perspective on how the business has evolved, what has worked well and the gaps.
The CFB also does great work in highlighting family business topics and providing a forum for debate. The international speakers at CFB events all have a unique story to tell, usually from a different business area, but the challenges are the same for all family businesses.
I have really enjoyed some of the sessions with Dr Justin Craig (Director of the Center for Family Enterprises, Kellogg School of Management, Northwestern University). I remember him speaking about the need to focus on the business, the family, the shareholder and the employees and to be crystal clear on the boundaries between each of them.
In the future, I would love to see the Centre for Family Businesses coordinating a mentoring programme to enable more mature family businesses to support others. I also see high benefit in the possibility of the Centre for Family Business and Enterprise Ireland working together to coordinate a specific growth programme for family businesses, similar to the Leadership for Growth Programme.
Overall, the Centre for Family Business is an excellent vehicle for the promotion, development and enhancement of family business in Ireland and it provides an essential role for supporting the Irish economy.