DCU boasts many notable graduates- media personalities, academics, sports stars adorn the long list of alumni who have used DCU as a springboard for their careers.
Among them sits Ger McDonnell. Ger graduated in the Class of 1993 with a degree in Electronic Engineering. He moved to Alaska to combine his professional life as an engineer with his real passion: mountain climbing.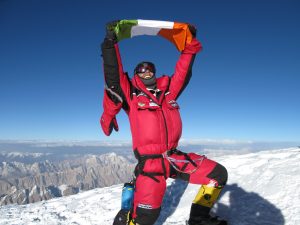 Ger made several attempts to climb Mount Everest, and in 2003 he became the fourth Irishman ever to successfully scale the world's highest mountain. In 2008, he became the first Irishman to summit K2. Tragically, Ger was caught in a fatal avalanche in his descent of K2 and lost his life.
Today, Ger McDonnell is remembered around DCU not only as a great classmate and courageous leader, but also as a lifeline for other students to receive an education.
Prof. Noel O'Connor, Ger's classmate and now Director of the Insight Centre for Data Analytics in DCU, was part of a core group of people who wanted Ger to be remembered in his alma mater.
"Ger was always very easy to get along with, and a small group of us managed to stay in touch after graduating, despite being scattered to the four corners of the earth. Every Christmas, he would come to visit and there would always be a catch up over pints!
"While the K2 tragedy was unfolding, that core group of us were being brought together by our concerns for his safety. We, along with many of his DCU classmates and friends, travelled down to his homeplace of Kilcornan in Limerick for his memorial service."
After the memorial service, the group decided they wanted to do something to remember their friend. Noel spoke to DCU Educational Trust about honouring him in some way. He described the lightbulb moment when they decided to set up a Ger McDonnell Access Scholarship Programme.
"The Access scholarships really are the jewel in DCU's crown- providing the opportunity of education to all. The idea was embraced by all of Ger's DCU classmates, we all loved that Ger's memory would live on in perpetuity through the students of DCU."
"At his memorial service, Ger's brother JJ told the story of how Ger had come home to Limerick to recuperate after he was injured during an Everest attempt. His mam asked him to post a letter, so he set off on his bike in Kilcornan in Limerick and kept going until he reached the postbox in Doolin.
"He had a pint of Guinness and a sandwich in a pub in Doolin, and the men in the pub nearly fell off their stools when Ger told them the 112km journey he'd taken to get there. Our classmate Niall McCarthy decided he would cycle the route to raise funds, but we turned it into a small group cycle."
What started out as a small group cycle quickly grew, and the local community and Ger's family and friends came out to support them in their first year with 60 people cycling the 112km route. In its second year, and every year since, the family and local community have taken over the running of what is now known as the Ger McDonnell Memorial Cycle.
Ger's sister, Denise O'Brien, describes the massive undertaking the cycle has been for the family, "For 10 years, we his family and friends have carried a torch hopefully helping to give light to needy charities as this is how Ger started his first big climb – raising funds for Milford Hospice. He was a giver and carer right until the end and beyond.
"Raising money for charity has been the focus as well as enjoying the company of an amazing bunch of people.  Ger's passing has been used as platform to help others and he would be humbled by it.
"The cycle has increased every year so we now get some of our food and water sponsored by both Centra and Supervalu in nearby Askeaton. We paid for the Ferry from Tarbert to Killimer out of the kitty, which was a big chunk of funds, so we are thrilled that Eugene Maher of Shannon Ferries has come on board and sponsored us. Vans are provided by Team Car Flag Ireland, Leatrans and  Tallybrooke Engineering. Crazy Castles have transported the bikes, as well as Morenane Transport. John Daly takes care of First Aid and any bikers available to show the way. Gerry O'Shea Bus Hire helped us out in the early days, for the past number of years McElligotts Bus Hire looked after us. A chance meeting with John Burke of The Spanish Armada Hotel in Co. Clare means that we now have refreshments on the morning of the cycle sponsored! Without the backing of these people it couldn't take place as they are the back bone and support system we rely on year after year."
On reflection, Noel says that the memorial cycle has not only transformed the lives of scholarship recipients, but also those of his classmates.
"The Ger cycle kick-started many of us to get back in shape and most of us are now still cycling for fitness. Sometimes, when we're cycling together, huffing and puffing up hills, we can't help but think that Ger is looking down on us and breaking his heart laughing at this development.
"A number of years ago, we recreated Ger's journey in its entirety by cycling the round trip – a full 224km cycle. It took eight and a half hours and nearly killed us, but was a bucket list item ticked off for me. On its final year, four of us are going to give it a crack again."
As well as inspiring his classmates to become fit, Noel says that what astounded him, his classmates and Ger's family most was the sheer amount of people who came out of the woodwork as having been helped or rescued by Ger over his career as a mountaineer.
"Maybe if he hadn't been so diligent about helping others on K2, he'd still be with us. He helped others as much as he could- on mountains and off them, and he'd be very proud to know that DCU students are being helped in his name through the scholarship fund."
Ger's sister Denise echoes this sentiment, "We miss his dynamic in our family so much, stories of adventure, fun and laughter and the gathering of people that would always assemble in our house because of his return. Ger knew some beautiful people who have now kept in touch with us as a family. This being the final cycle will be tough, it will be hard to let go of that connection.
"Ger would be so happy that this scholarship lives on in his name and creates hope for those who have a dream they wish to fulfil. It is a fabulous legacy and a tribute to Ger that truly embodies his character. We want to thank his friends and DCU for this scholarship; it is greatly appreciated by not only us as a family, but really touches and makes a difference to the families of the recipients. It's a fabulous footprint to leave behind, creating a path for others."
The Ger McDonnell Memorial Cycle 2018 takes place on Saturday, July 21st in Kilcornan, Co. Limerick. For more information, please see the event Facebook page, Ger McDonnell Cycle 2018.
To book your place on the cycle or to donate, please click here.