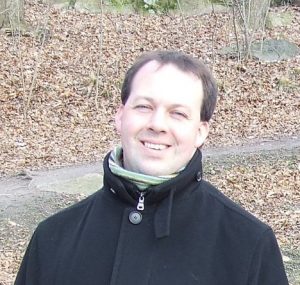 Joe Doyle graduated from DCU in 1994 with a Bachelor's degree in Business Studies. Since then, Joe has worked for Esso, Tesco Ireland, Net start-up ebeon, and telecoms supplier Ericsson. From Dublin, he has been on assignment in more than 30 countries, and is currently based in Russia where he lives in Moscow with his family. In this piece, Joe explains how DCU contributed to his own success and what led him to support DCU's Access programme and the DCU Covid-19 Student Emergency Fund.
As a DCU graduate, what does DCU mean to you today? And how did a DCU education contribute to your own success?
Several things really stood out to me about studying at DCU. There was a sense of innovation and energy – DCU was a young university, flexible and lively, a sort of shared adventure. I found it to be very accessible, lecturers and staff were always there to help students on their journey, and just to talk. Following DCU's journey since, I believe it has retained these qualities while growing the campus offering and course range massively.
From a business point of view, it was and is an extremely entrepreneurial university. Lecturers worked to make subjects relevant for the working world and the prospect of the INTRA placement, then a rare thing in Irish third-level, motivated me to study. This definitely contributed to my own success as it gave me the practical experience of how workplace environments really operate.
The INTRA placement took what we learnt in the previous years of study and enabled us to apply it, while also filling in the many small but important things that no lecture hall can contain, the human factors and the practical application of IT, for example. I worked with a wonderful team in a great company, and INTRA, and its follow-up, was hugely valuable. The mix of subjects DCU offers are directly related to the real world and I found I could apply what I had learnt very easily as I started my career in business and technology. When I talked to employers after graduating, they could see where I fit into an organisation right away and they were impressed by the skills DCU equips its graduates with.
What first inspired you to support DCU's Access programme nearly 18 years ago? And what has inspired you to continue your support to this day?
When I first started supporting DCU it was because I was grateful for the experience and opportunities that DCU had given me and I was in the fortunate position to be able to give something back. I had previously volunteered for a tutoring scheme in Ballymun, and when I discovered the Access programme, it was clear what an amazing impact the programme was having on disadvantaged students' lives. Getting involved in giving, and being part of the conversation, was also a great way of staying in touch and involved with the DCU community.
Last year, you made a donation to the DCU Covid-19 Student Emergency Fund. Why did you feel that it was important to support students at this difficult time?
I donated to the DCU Covid-19 Student Emergency fund because, like many others, I believe that students should not miss out on their education because of something that was completely out of their control. There are many barriers that students from socio-economically disadvantaged backgrounds face when getting to third level education and Covid-19 became yet another burden for them to deal with and limited some important aspects of the university experience – but at least it should not stop people advancing. It was a small gesture, but one that will hopefully help students to follow their dream of studying at university.
As a DCU graduate with a successful career in business, what advice would you give to DCU students pursuing the same career path?
I would advise students to take all the opportunities that DCU has to offer. Enjoy it all but do prioritise study, especially once it is clear where your talents and interests meet. But manage it in a way that allows you to get involved in the broader world. For example, get involved in clubs and societies not just as a consumer, but as an organiser, and take the chance to work on programme boards or Students Union panels. The time in university is precious, and while you have to work hard, you will never have quite the same opportunity to experiment and grow. I'd also suggest everyone keeps their university community close. Those DCU years are a great opportunity to make friends and connections for life, which will be invaluable as you get older, both in your personal life and your career.
Finally, I would say to make the most of the INTRA placement – the experience that it offers is so important, and much of it is subtle, but as a hiring manager for more than 25 years, I know how much quicker many graduates are to fit in, and bring value to their team, when they have had a quality work placement. INTRA is also a great chance to seed an extended personal network, and make new connections.