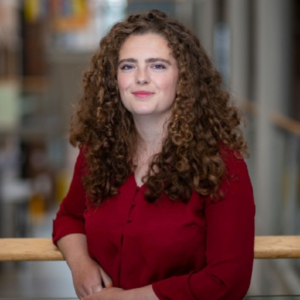 Ciara Furlong is a PhD candidate in DCU's School of Biotechnology. In this piece, she explains how support from the Pierse Endowed Scholarship Fund has enabled her to pursue research that is coming up with solutions to the growing resistance of bacteria to antibiotics.
I have always had a love of science and I opted to study all three subjects for my Leaving Certificate in school – Chemistry, Physics and Biology. My sixth year Biology teacher really inspired my love of the subject and encouraged me to set a goal to pursue a career in scientific research.
I first studied General Science for my undergraduate degree, specialising in microbiology. In my final year, I researched the role of certain genes involved in antifungal resistance in Candida albicans for my final year project, which drove my desire to conduct further studies in the field. I found it fascinating to see how bacteria can develop resistance to antibiotics and to consider the potential solutions to this major issue for society. I applied to take part in a research Master's programme working with Dr Linda Holland on a project exploring how fungi can potentially be used to treat dangerous biofilm infections instead of antibiotics. Thanks to the support of the Pierse Scholarship Fund, I was delighted to continue my research on this topic for two further years to PhD level.
My research question looks at "How do fungi affect bacterial biofilm formation?" I work with the bacterial pathogen, Staphylococcus aureus, which can cause illnesses ranging from minor skin infections to life-threatening sepsis. S. aureus can also attach to implanted medical devices such as catheters and pacemakers. Once attached to a surface, the cells continue to grow and produce a thick protective layer, known as a biofilm. Bacteria within a biofilm are very difficult to kill but I have discovered a fungus that is secreting an unknown molecule that can stop S. aureus from making a biofilm. If we can stop bacteria from growing a biofilm using this fungus, then they will be easier to kill and can no longer cause serious infections.
Pursuing this doctoral research on microbiology and interspecies interaction has been a dream come true for me. Considering how bacteria and fungi work together is incredibly important to understand when it comes to treating diseases and infections.
"As bacterial resistance surges against antibiotics, it is important to find a different way to treat illnesses and I believe my research can help to do that. I am happy to be carrying out this important work, which will help not only the scientific community but will also hopefully translate to medical treatments in the future."
I am extremely grateful for the support I have received and for this scholarship. I have learned such an incredible amount here at DCU and I get to work with amazing professors. I am looking forward to my final year at DCU and I hope to continue in the field of research once I have completed my PhD.