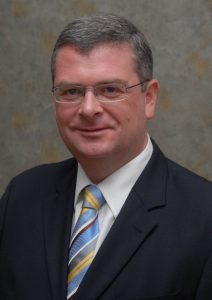 Dublin City University wishes to expresses its sadness at the death of the former CEO of Digicel Group, Colm Delves. As a member of DCU's alumni community, Colm had maintained close connections with the University and served on the DCU Educational Trust Council of Trustees since 2018.
Colm was a well-known business leader, admired for both his commercial successes and his humility. After graduating from DCU with a degree in Accounting and Finance, he went on to qualify as a chartered accountant and quickly rose to the position of Chief Financial Officer with Hibernia Foods plc, a position he held from 1993 to 2003.
In 2004, Colm joined Digicel as its Chief Financial Officer, and was later appointed CEO in July 2005, a role which he held until January 2018. During his time at the helm of Digicel, Colm helped to turn the company into a market leader and the largest wireless network operator in the Caribbean and Pacific Islands.
At the helm of Digicel, Colm initiated the company's support for DCU's Access Scholarship Programme, which has enabled hundreds of students from socio-economically disadvantaged backgrounds to pursue a third level education at DCU. Colm also established the DCU Digicel Summer Internship Programme, which has provided over 20 DCU Access students with the opportunity of a life changing summer internship with Digicel in the Caribbean. A big believer in giving back, Colm also established an endowed Access scholarship fund at DCU in 2018.
Speaking in response to the news of Colm's untimely passing, DCU President, Professor Brian MacCraith stated:
"On behalf of the DCU community, I want to express my condolences to the family and colleagues of Colm Delves. Colm was a well-respected and highly successful business leader who we were proud to count as one of our own.

Colm was a true friend to DCU, whose actions contributed to transforming the lives of many DCU Access students. In his role as a member of DCU Educational Trust's Council of Trustees in recent years, I also witnessed the unique blend of humanity, business acumen and generosity of spirit which Colm brought to this work. As a valued Council member, he will be sadly missed."
In 2012, DCU recognised Colm's achievements in business when he was awarded a place on the DCU Alumni Wall.