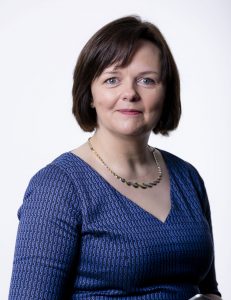 Datascan is a second generation Irish family business that specialises in document and information processing. In this piece, Orla Cafferty, Director at Datascan, explains how her parents founded the family business and how Datascan is handling the current global Covid-19 crisis.
How did Datascan first begin?
My parents, Padraic and Patricia, started a security service back in the 1980's called Securi-Force. Securi-Force provided security for prominent events in Ireland, including the Eurovision Song Contest and the opening of the K Club.
In 1998, my parents sold Securi-Force and turned their focus to processing sales and returns for Irish newspapers. Independent News and Media asked my father for a trial run of scanning their newspaper's unsold returns, and they have been a client of ours ever since.
In the early days, barcodes were cut out of the newspapers and sent to us. Then, the EU decided that newspaper publishers were responsible for the recycling of waste newspapers, so we began receiving all unsold newspapers into the office to return the waste paper back to the newspaper suppliers.
How has the company evolved over the years?
We had just moved from a small office in Ballymun to a 12,000sq foot office in Finglas to accommodate the high volume of paper entering the office in 2007 when the economic recession hit, and so we had to rethink our business.
We decided to diversify into document services and after some time I had an idea to contact GPs to see if they were using patient management packages and how the dealt with scanning medical records – now, we're the partner of choice for the main GP software packages.
We also provide a range of services to our customer base that we didn't ten years ago. We're the first company in Ireland to offer a CCTV redaction service, which is the blurring of CCTV footage. For example, when a bar owner needs to share CCTV footage of an incident on their premises, it's their responsibility to remove imagery of any other individuals in the footage before it's shared, otherwise they are breaking the privacy of these individuals.
This service initially stemmed from a customer request as well as my father's background and experience in security, so we always try to assist our customers no matter what their query might by.
What challenges do you face as a family business in today's economy?
Ordinarily, our main challenge as a family business would be competing with household names in the area of digital documentation. For most large companies, digital documentation management is just one element of their business, whereas for Datascan, it's our core business.
Given the current circumstances of the global Covid-19 pandemic, we're trying to balance the needs of our colleagues and customers. Our newspaper processing is operating at almost normal requirements, but we had to introduce social distancing measures which have adversely affected our production efficiencies which of course results in reduced profitability. As for our document services department, that's currently operating a skeleton crew due to reduced customer demand because of offices being closed.
We're hoping, like all businesses, that we emerge from the crisis intact, and in the meantime, we will continue to do our best to hang on in there and follow the HSE and government guidelines.
How has DCU's Centre for Family Business (CFB) helped you to navigate any challenges you face and to prepare your company for the future?
The Centre for Family Business organises some great events with a high calibre of speakers. Last year, I attended the CFB's Annual Conference which featured a large-scale family business based in Australia. It was reassuring to hear that even large family businesses still face similar challenges and issues as a small family business like Datascan.
I've really benefited from networking events and succession planning workshops the CFB has hosted, and in future I'd love to attend CFB events that focus on specific advisory topics such as insurance challenges small business might face.
The Centre for Family Business is supported by AIB, Beauchamps and PwC.