CitySwift is just one of the successful businesses that has passed through DCU's UStart programme. Brian O'Rourke, founder and Chief Executive of CitySwift, explains how the company first began and how UStart supported and guided the company to success.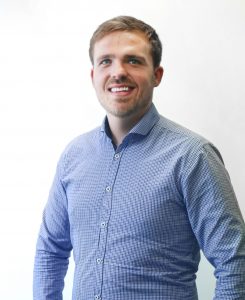 Where did the business idea for CitySwift come from?
The initial idea for CitySwift originated back in 2014 when I was in my final year of my Business Studies degree at DCU. As part of an entrepreneurship module I took, we had to come up with a theoretical business idea and present the idea as a final year project. Around that time, taxi apps like Uber and mytaxi started to come on the scene, so I decided to look at this space and see how a similar approach could work for booking private buses to events, work or college. I spoke to my friend Alan about the idea, as his family run a bus business in the midlands, and we came up with the concept of CitySwift. The business started off as a platform for booking private bus hire, but with the help of UStart and DCU, our business model has developed to become a massive data platform, used by some of the UK's largest transportation companies.
What supports did UStart offer you and your co-founder, Alan, to develop your newly-founded business?
UStart provided us with free office space in Dublin, opportunities to pitch to investors and one-on-one mentoring which were all hugely beneficial. Although I have a background in business, the insights gained through mentoring from successful entrepreneurs were invaluable. Through UStart, we were introduced to Stagecoach MD, Bob Montogomery, who gave us vital insights into the global bus market and how to grow from a small Irish business to an international business. Stagecoach is the UK's largest bus company with over 8,000 buses and is one of our biggest single clients to this day. We were also introduced to the founder of the Ryan Academy, Declan Ryan, who is now a lead investor in CitySwift and a big supporter of the work we do.
CitySwift has grown to become a data-driven decision-making platform for bus companies in Ireland, the UK and now Europe. What was the turning point for the business?
During the UStart programme, we were able to experiment with different business models and came to the conclusion that we should turn our focus from selling to consumers to selling to businesses. With that, CitySwift transformed into a data-driven decision making platform which generates the best bus routes and timetables for our clients, saving them 5% to 10% in operating costs. Since then, the company has continued to grow and grow. We are now working with three of the UK's largest bus companies and also have our first clients in Europe. We currently have 15 full-time employees and we're still looking to recruit and expand.
If you could give advice to any young entrepreneurs looking to start up a business, what would it be?
My advice to young entrepreneurs is to use any connections and contacts you might have to your advantage. Even if it's just asking for advice and feedback, people are more than likely always willing to help you out. I'd also recommend talking to potential stakeholders and clients as early as possible. These conversations definitely help you to reach your long-term business goals faster, as you can adapt your company to what your potential clients are looking for.
As a business owner, how are you dealing with the implications of Covid-19 on your business?
We're currently working with our clients to rebuild their bus networks for when everything is up and running as normal again. However, we've shifted some of our priorities to support clients that have been impacted by Covid-19 by looking at different ways our clients can avail of our services and resources. We're also mining recovery data from around the world, to ensure our machine learning models can arcuately forecast passenger demand and journey times as lockdown measures ease. As for CitySwift itself, we're still looking to recruit and expand the business while adapting our plans for whatever the future might bring.