Irish Linen House is a family business that creates tableware from sustainable 100% Irish linen in Smithfield, Dublin. When lockdown measures were imposed in Ireland, Irish Linen House had to rethink their brand and products to survive as a business. Now, they are making face masks from linen and have kindly donated proceeds to many local charities, including the DCU Covid-19 Student Emergency Fund. Marie-Claire Whelan, a member of the family business, explains why they chose to donate to the fund.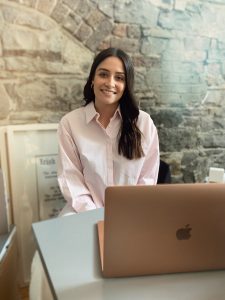 "My family's business, Irish Linen House, closed our doors to the public back in March due to Covid-19, which massively affected our business. A large section of our customer base is made up of tourists, so when international travel stopped we lost a huge proportion of our customers. We began making a few linen face masks at the beginning of the nationwide lockdown as a favour for a pharmacist friend of mine who couldn't get face masks for her staff anywhere – but once we realised face masks were in such short supply in Ireland, we started making more linen face masks, as we felt this was something we could do to help. We began donating them to hospital staff and frontline workers, as well as local cafes and businesses. Linen has amazing properties, making it a great choice of fabric to use for face masks. Very quickly, there was a huge demand for our linen face masks, and so we decided to restructure our business and started selling our masks to the public. As we never envisaged selling our face masks for profit, we decided to donate the proceeds to a number of local charities including De Paul, the Capuchin Day Centre for Homeless People and An Síol."
Why did you decide to support the DCU Covid-19 Student Emergency Fund?
"I studied a BSc in Multimedia at DCU and graduated in 2013. I loved going to DCU as I felt it had so much to offer as a university beyond its courses and education. There's a real sense of community at DCU, with both the students and staff creating an inclusive culture for everyone in the DCU community. DCU always has a special place in my heart, so when I received the email from DCU President Brian MacCraith asking DCU Alumni for support for the first time in his 10-year tenure, I knew we had to get behind this campaign and support it. We were looking for another charity to donate the proceeds of our face masks to, so the email came at the perfect time really. I was aware of the Access Programme from my time at DCU, so I know how important it is for Access students to have the same opportunities as everyone else and have a level playing field going into the workforce."
Why is it important for businesses to support philanthropy during the Covid-19 pandemic?
"We are all facing new and unprecedented challenges together due to Covid-19. As the saying goes 'We're all in this together', so now more than ever it has been important to come together and support each other where we can. Personally, I think it has been amazing to see the generosity of people and the willingness to support those most in need, especially when people are going through a difficult time themselves financially too. Even the smallest gestures can go a long way."
How has Irish Linen House adapted to the Covid-19 crisis as a business?
"Our shop is right beside the Jameson Distillery, so we're very popular with tourists, especially Americans and Europeans. We knew once international travel stopped that tourism in Ireland would be hugely affected and that we would also lose a very large part of our customer base. However, producing and selling linen face masks has allowed us to grow our profile among our Irish customer base and inform this new customer base of the benefits of using linen materials. We looked at evolving and adapting to the needs of our customer base, which I think is essential for a lot of businesses to do to survive this pandemic."