Sarah Torrans is a third year General Nursing student at DCU from Knocklyon, Dublin. Sarah manages a busy schedule of completing her degree at DCU while also representing both DCU and Ireland on the hockey pitch. In this piece, she gives an insight into the 2018 Women's Hockey World Cup, the 2021 Olympics and the role the DCU Sports and Wellbeing has played to help her be the best she can on and off the field.
When did you first begin playing hockey?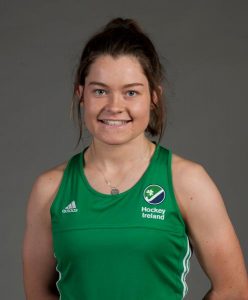 My introduction to hockey happened by default. My dad played a lot of soccer when he was growing up, so when I turned five years old he marched me down to the local soccer club to sign me up. Sadly, the club didn't have a girls team at the time, and as a result I ended up in the local hockey club instead – Corinthians Hockey Club.
I played with Corinthians for a lot of my youth, but at the age of about 16 or 17, when I had just come through at under 16 level and was pushing onto the senior scene, I transferred to Loreto Hockey Club. Initially, the move was hard. I was sad to leave Corinthians and for my first year at Loreto I didn't get a lot of game time. However, I was at the point in my sporting career where I had made the move onto the international stage and I knew I needed to train and play games at a higher standard than before if I wanted to be successful. So while it was a hard move, I knew it was the right one.
What does your training schedule usually look like for both the Irish Women's Hockey team and your local club?
The senior team is usually in semi-full time in preparation for the next Olympics. We train all day Sunday, Monday, Tuesday, a half day on Thursdays and off on Wednesdays. We train with our clubs on Thursday evenings, have a break on Fridays and play a match with our clubs on Saturdays, so it can be pretty full on.
However, due to Covid-19 and the postponement of the Olympics this year, we had a four week break from the programme. After this break, we start a running programme and completed home gym sessions with whatever equipment we could find! Due to lock down restrictions at the time, we had to train individually, which was an unusual experience as we would always train together as a team. We started playing again in August and at the start of September we started back into our part time programme. It's a tough time for everyone and definitely a year that involves a lot of change and adaptability, but we know every team will be working extremely hard this year as we all still have the same goal in mind.
How do you balance your busy training schedule with your commitment to complete your degree in General Nursing at DCU?
I suppose the key to it really is just managing my time effectively. There are times that I have to prioritise my training and other times when I have to focus on my studies. General Nursing is a demanding course, as is my training schedule, but with the support of DCU Sports and Wellbeing, I have been able to manage both my studies and my hockey commitments quite well.
With the assistance of DCU Sports and Wellbeing, I have been able to split my required hours in half. At the moment, I'm completing two modules this semester instead of five, allowing me to complete the other three modules at a later date. DCU Sports and Wellbeing has also helped with my placement whereby I started in August 2019 and worked up until December 2019. The rest of my placement has been put on hold until January 2021 when there will be less hockey on.
The Irish Women's Hockey team captured the hearts of the nation at the World Cup in 2018 – what was it like to be part of this team?
I was lucky enough to be the youngest member of the 22 player squad up until the final selection pre World Cup. Unfortunately, I didn't make the final 18 that represented Ireland at the World Cup. I travelled over to London as a supporter during the group phases and was also able to experience the incredible support at home during the latter stages of the competition.
I was invited to meet with the squad for their homecoming where for the first time the players realised how much support had grown for them at home, as the last time we played in Ireland pre-tournament, there were only a couple of parents and a dog on the sidelines! It was amazing to be asked on stage, to sing and dance with the team. I'll never forget it. That success did wonders for women's hockey in Ireland with the playing numbers growing since, and it was also being hugely beneficial future of women's sport in Ireland.