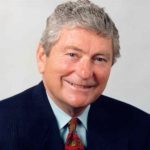 Dr Tim Mahony, Founder and Chairman of Toyota Ireland, was one of Ireland's foremost business figures and a leading philanthropist. His lifelong love of music, education and Irish culture lay behind his generous support of a vast array of cultural and educational initiatives, including The Helix, where the main auditorium is named 'The Mahony Hall'. In keeping with his passion for music, Toyota Ireland has kindly sponsored 'The Dr Tim Mahony Memorial Scholarship', in support of a student studying the BA course in Jazz and Contemporary Music Performance at DCU. In this piece, Tim's daughter, Mary, describes her father's interest in the arts and education and why their family was pleased to establish the Dr Tim Mahony Memorial Scholarship at DCU.
Your father, Dr Tim Mahony, was widely known as one of Ireland's foremost business figures and as a leading philanthropist. Can you tell us a little bit about who he was, the values that drove him, his passion for arts, culture and music, and his connections to north Dublin and to DCU?
"Our family connection to DCU is because of my father Tim. He was born in Dublin and spent his early years in Glasnevin, just around the corner from DCU. He attended O'Connell School and later moved to Cork where he finished out his school years at the North Mon. When he came back to Dublin he returned to live on the Northside.
Tim started out his working life in the civil service and then went on to work in a number of businesses before taking over the Toyota franchise in the mid-70's and building it into the number one motor brand it is today. He had great vision and always believed that tourism would play a huge part in our country's future, which led to the development of Mount Juliet, the first luxury hotel and golf course in Ireland and subsequently the redevelopment of Fota Island. Tim always seemed to be one step ahead – he had a very inquisitive mind and he continuously strived to be the best in whatever he put his mind to.
Even though he was continuously working and planning,  he always made time for family and was very much a family man. We grew up with music in the house – whether it was opera, Makem and Clancy or Sinatra – there was no particular genre.  He also had a love of  theatre, having written a play in his twenties and the script for the last pantomime performed at the Theatre Royal, in the 60's. Because of my parents love of the Irish language, we spent our summers in the gaelteacht where we had many memorable nights of music and dance.
Tim believed that education was so important and the arts and culture were just as relevant as other professions.  He understood that they were all equally important in creating the social fabric of the Ireland that we wanted to live in. To this end, Tim sponsored many different programmes including Toyota's almost 30 year sponsorship of the Irish Youth Orchestra, The World Academy of Music and Dance in the University of Limerick and, of course, The Helix at DCU.
His thinking about being part of the Helix development was to give the people of North Dublin the facility to experience the arts and to make it accessible to all – whether it was theatre, opera or pantomime. He was honoured to have the main auditorium called after him."
"His connection to DCU was cemented in 1994 when he received a Doctorate of Philosophy.  This was a very proud moment in our family's life and meant so much to Tim because it was recognition from a a university in his home area of north Dublin."
How did you decide to establish a memorial scholarship in his memory at DCU?
"My mother, Maeve, decided to establish the Dr Tim Mahony Memorial Scholarship at DCU as a continuation of our support for the arts and music in north Dublin. This particular scholarship, for the highest achieving first year student on the BA in Jazz and Contemporary Music Performance, was a recognition of the interests of her grandchildren, some having studied at DCU."
The Dr Tim Mahony Memorial Scholarship supports a student studying on the BA in Jazz and Contemporary Music Performance at DCU and each year your family meets the student supported in your father's memory. How does it feel to see the impact which your father's legacy has on these talented young musicians? And how do you think he would feel about it?
"My sisters have attended the annual Memorial Scholarship Service of Remembrance and Presentation Ceremony in previous years, and always comment on how proud and moved they are by the ceremony and calibre of students who receive the Dr Tim Mahony Memorial Scholarship. I know my father would be very proud that this scholarship is continuing to support arts and music in an educational setting at DCU, and supporting the future musicians of Ireland."