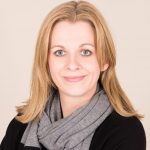 Deloitte has a long history of collaboration with DCU since 2007, supporting many initiatives throughout the years including the creation of an Endowed Access Scholarship Fund, support for women's rugby and most recently support for research into virtual and hybrid internships.
In this piece, Sinead Gogan, Chief Human Resource Officer with Deloitte, explains why the company continues to support DCU 14 years on and what inspires Deloitte to enable people to excel.
Can you tell us why Deloitte has been keen to partner with DCU, what DCU as a university represents to Deloitte, and how the values of our organisations align?
Universities play a unique role in society as many are driven by social values, actively engaging with communities in both their region and nationally. DCU's mission to transform lives and societies aligns with Deloitte's purpose to make an impact that matters for clients, people and society. It also supports us to live Deloitte's shared values, in particular to foster inclusion, which is at the heart of everything we do.
WorldClass is Deloitte's global ambition to impact 50 million people by helping them prepare for a world of opportunity. In Ireland, our commitment is to reach 180,000 futures, by using our core expertise to develop job skills, improve educational outcomes and create opportunity for those left behind by the Fourth Industrial Revolution. DCU leading Ireland's largest Access Programme, makes our partnership a natural and strategically important fit for us.
In 2020, you agreed to support research by DCU's Prof David Collings, which will create a toolkit to support companies participating in DCU's Access to the Workplace Programme to host virtual or hybrid internships for students from socio-economically disadvantaged backgrounds this summer. What inspired you to support this piece of research?
As a training and learning firm, internships are now strategically important in the hiring process for our graduate talent programme. Interns gain enhanced understanding and knowledge of our business through exposure to different clients and work while with us, sometimes over multiple years, and we want them to return once they graduate from university.
We recognise however that we have more to do in offering opportunities to students from socio-economically disadvantaged backgrounds. We know that such students often struggle to secure internships, so by supporting Prof David Collings' research we want to improve our own process of virtual and hybrid internships for interns across the board.
Like all companies, Deloitte has been forced to make a rapid transition to remote working over the last year due to the Covid-19 pandemic. What has this experience shown Deloitte and how has it influenced how you think about the future of work and internships?
Like most employers of 'knowledge workers', we quickly transitioned everyone to home working last March. In some ways, that was the easy part, because, as it became more permanent, we had to reimagine how to support our people. We initially were not sure if we would be able to accommodate students entering our summer programme, so we pivoted to a career-focused, shorter experience that we could offer every student. We also knew we would have to virtually induct our new hires in our graduate intake from the Autumn, and our leadership were committed to doing as much as feasible, so we were able to on-board our final intern intakes from July.
This was a great learning experience proving that anything is possible when a committed team come together to make it happen. Interns received more support and check-ins from their mentors and supervisors than usual so to substitute the lack of face-to-face interactions, which made a noticeable difference to the work output. Going forward, we hope to combine the best elements of working in-office and virtually, so to create a compelling hybrid working environment for all our talent.
Looking at the projects that Deloitte has supported at DCU, from endowed Access scholarships and support for women's rugby to most recently supporting DCU's Access to the Workplace Programme and virtual internships research, Deloitte's commitment to enabling people to excel is clear. Is this a key factor in guiding Deloitte's corporate responsibility actions?
Enabling people to excel through pro bono and skills-based volunteering most definitely leads our corporate social responsibility commitments at Deloitte. We believe that we make the greatest societal impact when our professionals use their skills and expertise to help people to develop job skills, improve educational outcomes, and access opportunities to succeed in this new economy.
Through Deloitte's research, we have shown that one hour of skilled volunteer time is eight times more impactful than a 'traditional' volunteer hour. It has an impact beyond the benefits to the charity or communities that we support, as it is also provides a learning and growth experience for our people while also giving them an opportunity to contribute to meaningful work and to the greater good.
We understand and recognise our privileged position in Deloitte to provide access to opportunity to those from marginalised communities. Our transition to our new virtual way of working has enabled us to reach even more communities and cohorts of people, especially those in remote parts of the country. We will continue to accelerate our outreach in this space through our various programmes including our proud partnership with the DCU Educational Trust to enable people to reach their potential.
"Through supporting DCU's Access Programme, Access to the Workplace Programme and most recently Prof David Collings' virtual internships research, we hope to enable Ireland's future talent to excel no matter who they are or where they come from as part of our WorldClass ambition."