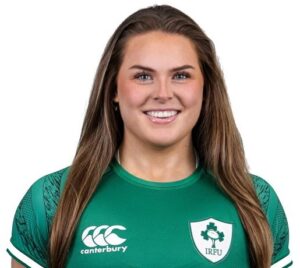 DCU student Beibhinn Parsons became the youngest capped player in Irish rugby at 16 – and five years later, she's qualified for the Olympics after blazing a trail for Ireland at the World Rugby Sevens Series. In the run up to that qualification, she shared how DCU Sports is helping her balance Communications coursework with Olympic ambitions.
How did you first discover your passion for rugby?
I come from a family that's about 50:50 sporty and not at all interested in sport! My dad and eldest brother could talk about sport until the cows come home, but my mam and the other two aren't sporty at all. When I was younger, I played mainly Gaelic football. I first got into rugby on an under 11s mixed team – though it wasn't very mixed! I was pretty much the only girl, and I stuck out like a sore thumb, but we were a really good team. What I loved about rugby was that that I could just take the ball and run and beat people one-on-one. I was a back in GAA, so I was never a big point-scorer in that sport, but in rugby I could score tries and make a real impact for my team.
It wasn't until I was 13 that there was a girl's rugby team I could join in Ballinasloe. In a lot of ways, I was in the right place at the right time. When I started playing with Ballinasloe, the team was taking off like wildfire. We had forty incredible girls, and we were beating all the teams around us, teams that were a lot more established. When our coach sent us to the Connacht trials, most of us got onto the team.
Around that time, I joined the U18 Sevens team for Ireland, where our coach was working with the senior team too. He started pulling me into games for the senior team, and that was when it really took off.
What have been the proudest moments of your rugby career so far?
I got my first cap at 16, making me the youngest capped player in Irish rugby. You might think your first cap is the most special, but for me the meaning of representing Ireland in that way has grown every time I step onto the pitch. I appreciate more now what it means and all the people who went before me. At 16, it went a bit over my head, and that was probably a good thing! It meant the pressure didn't get to me as much, it was more excitement. Captaining the U18s Sevens team was massive for me too. I learned a lot about leadership and being a good teammate, and that experience has stayed with me.
"I'm playing for Ireland in the World Rugby Sevens Series this year, and our number one goal now is to qualify for the Paris Olympics. I started in the 15s, where the pinnacle is the World Cup, but in Sevens the Olympics is our Everest."
We haven't qualified for the Olympics before, and this is our best shot yet. We're having a really good season, and if the qualifying teams were selected tomorrow, we'd be in. We are ahead right now, but we need to reach a semi-final or a top four finish in Toulouse to see us through.
What drew you to DCU as a student athlete?
I knew other girls from rugby who studied Communications at DCU, and I had a real interest in radio and television. The people I talked to all had really positive experiences at DCU, and I've experienced that first hand now. I was originally studying Biomedical, Health and Life Sciences in UCD, but that course wasn't compatible with all the rugby and travel, so last year I made the decision to change course.
What have been the biggest challenges when it comes to balancing rugby with college – and how has DCU Sports helped?
"At DCU, it really feels like a team effort to help me achieve the best I can in rugby and in academics. I have amazing people in my corner, and it feels like by hook or by crook I'll get through this degree. I can do my assignments while I'm abroad and still progress in college, so I did a lot of my Communications assignments from the World Series in Dubai and Cape Town this year!"
The team at DCU Sports do a lot to help me plan ahead too. Molly, Andy and Yvonne have been brilliant to work with, and I'm really grateful to them. They're so experienced, and they know the challenges that student athletes face. They made my course aware of my commitment to rugby, so if I need to apply for extensions, those lines of communication are already open.
Keeping yourself in the loop is a big challenge if you can't attend lectures every day, so you have to make a real effort to catch up on the details and do the extra readings, but this year has been really positive for me.
The visibility of women's rugby has come a long way in the five years since your first cap. What does that mean to you?
I think it's brilliant, because I want to be treated equally. I know it's a tough time for the girls now after the Six Nations, but having that increased scrutiny when we could be doing better should come hand in hand with being celebrated the same as the men when we do well.
It's great to see the media getting behind women's rugby. I think it's getting younger girls into sports and giving them role models that they can get behind. When I joined the Women's Senior team, I'd only ever watched one or two of their games. There were women on that team with 30 caps and I didn't even know their names. I was so in awe of those women when I got to see them play, and it's an opportunity that I wish I'd had from a younger age.
Photo Credit: ©INPHO/Martin Seras Lima ©INPHO/Laszlo Geczo