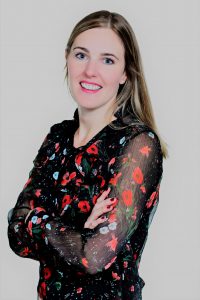 Rachel O'Connor is Head of Sales with Colourtrend, one of Ireland's leading decorative paint brands. In this interview, she explains how the company has grown since her grandfather first established General Paints in 1953 in an old Famine workhouse building in Celbridge and how the company has benefited from its engagement with DCU's Centre for Family Business.
Tell us about your company and how it got started…
The company was founded in 1953 as General Paints when Ronan O'Connor returned from the United States (US) where he had been working for a paint company and decided to set up on his own in an old Famine workhouse building in Celbridge – which is still our company headquarters to this day.
Ronan brought a lot of knowledge back with him in terms of new emulsion technology from the US which led to us becoming the first European company in the 1960s to manufacture water-based paint using a pure acrylic resin.
How has the company evolved since that time and how many generations of the family have been involved?
Initially we focused mainly on industrial coatings but over the years we have gradually moved towards a greater focus on decorative paints. Today, Colourtrend is well known for our colour palettes that are inspired by the Irish landscape and our premium quality products. Our colours have also been used on some of Ireland's most famous landmarks including the Ha'penny Bridge and The Turner Greenhouse in the Botanic Gardens.
When my father Kevin O'Connor joined the company 33 years ago, it was a much smaller business. He has focussed on professionalising the company and set up our Board of Directors, most of whom are non-family members. Although he himself comes from a technical background, he also brought a much greater focus on marketing to the business.
I am now the third generation of family to work in the company. I am a civil engineer by background and worked in Silicon Valley with a number of technology companies before moving home. I found it hugely beneficial to work away from home before joining the family business.
What are the unique challenges that you face as a family business operating in Ireland today?
As an SME we have less resources than some of our larger competitors, and we need to be selective about which projects we invest in.
A lot of the challenges we face are not unique to family businesses. One of our goals is to diversify to other markets – we have been trying to crack the UK market for years but have found it quite difficult. In Ireland we work with independent retailers who have extra time and expertise for customers but in the UK, the market is dominated by the big chains.
There are also a lot of benefits to working in a family business, in particular I think family values can make it a really nice place to work.
How has DCU's Centre for Family Business (CFB) helped you to navigate any challenges you face and to prepare your company for the future?
The CFB brings together family businesses across many industries and identifies common themes and needs, such as professionalising the business, bringing in and blending non-family member leaders at Board and Management level, and succession planning. We find there is a lot to learn from other family businesses in how they have addressed these issues.
For Colourtrend, the CFB has helped us with succession planning. As a company, we don't do it very often and there are no hard and fast rules. In 2017, the Centre brought Paul and Audrey Darley over from W.S Darley and Co in the USA and I really enjoyed their presentation. They are a fourth generation family business and a leading equipment provider to fire and emergency services worldwide. As a bigger and older company, I liked that they had a charter, explicit company values and family councils, things that we do at a more basic level.
In general, I find the speakers at CFB events are very frank and open – they don't just give the glossy side. It is refreshing to attend the events and to network with a group of peers where people are very open about the challenges that they face, and we all want to see fellow Irish companies succeed.
Eric Clinton, Director of the Centre for Family Business, has also been great to work with, and it's interesting to hear about the CFB's research in this area.